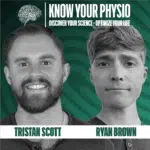 Holistic health was at the forefront of my enlightening discussion today, as I joined Tristan Scott and Ryan Brown, the spirited hosts of the 'Decentralized Radio' podcast. Tristan, not only an accomplished electrical engineer but also a fervent advocate for health, nutrition, and regenerative agriculture, shared his transformative journey. This journey, marked by his battle with post-concussive syndrome (PCS), led him to explore the nuances of health, particularly the imperfections in our food and agricultural systems. Beyond these insightful talks, Tristan's love for the outdoors shines, often seen skiing, hiking, or kayaking through the majestic terrains of the Mountain West
We deeply delved into the essence of holistic health. Advocating for doctors to act more as guides than traditional gatekeepers, I emphasized the synergy of various health avenues—from psychedelic and functional medicine to nutrition and mindfulness. It's crucial for patients to be empowered with an array of tools, echoing a shift I've observed: health and wellness moving beyond mere medication, with both physicians and patients growing more receptive to holistic practices. It's this rich blend of individual stories and collective learning that, to me, paints the full picture of health and wellness in our modern age.
In essence, our discussion was a thorough examination of contemporary well-being. We delved into the confluence of tradition, technology, and conscious choices, aiming to shed light on strategies for leading a balanced life in a rapidly evolving digital age. For those seeking insights into holistic health, our conversation serves as an informative guide, underscoring the importance of mindfulness, self-awareness, and a proactive approach to personal wellness.
Key Points: Holistic Health
Passion for health and wellness [00:09:56]
Medication dependency and lack of knowledge [00:15:10]
Embrace discomfort for personal growth [00:19:58]
Embrace struggles for personal growth [00:30:08]
Shift towards holistic health [00:35:34]
Sleep, nutrition, movement, & mind [00:50:10]
Biohacking for optimal health [00:54:28]
Instant gratification hinders long-term health [01:04:09]
The joy of spearfishing and its rewards [01:10:09]
Breathing techniques for stress reduction [01:19:20]
Be intentional with your phone [01:41:20]

Links Mentioned in Today's Episode:

Click HERE to save on BiOptimizers Magnesium

Decentralized Radio

Tristan Scott on Instagram

Ryan Brown Facebook

Breathwork Podcast

David 'Jacko' Jackson

Ra Optics

Sleep Blog

Breathwork Blog

Support the show