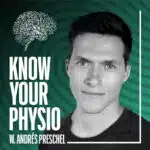 Today, you'll hear from Dr. Ricardo Komotar, a Professor of Neurological Surgery at the University of Miami School of Medicine and an internationally recognized leader in the field of brain tumors. He performs nearly 800 procedures for these conditions each year using advanced, cutting-edge surgical and radio-surgical techniques; making him one of the highest volume brain tumor surgeons in the world. His research interests include clinical trial development and translational neuro oncologic investigations designed to pioneer new therapies for brain tumors. In this episode, we explore the relationship between health and happiness and how doing what you love can influence nearly every area of your life. We also touch on stress management for better brain health, the benefits of a ketogenic diet for cancer patients, and how you can improve your brain function by multitasking, as well as the correlations between mental health and brain disease. Dr. Komotar demonstrates how approachable you can be as you accomplish greatness in your field and this conversation illustrates the deep sense of curiosity, enthusiasm, and joy that he brings to inspiring the next generation of scientists and purpose-driven leaders. You won't want to miss it!
Key Points From This Episode:
The moment in ninth grade when Dr. Komotar realized his passion for neuroscience.
Dr. Komotar's advice for discovering your passion: keep an open mind!
Reflecting on the relationship between health, happiness, and doing what you love.
Why there is still so much left to learn and understand about what causes brain tumors.
How following a balanced lifestyle and being happy ultimately translates to better health, even if it isn't guaranteed to prevent disease.
How Dr. Komotar manages the stress that comes with his job: sleep, exercise, and diet.
Hear about the recent opportunity he had to work with Deepak Chopra.
What the data has to say about the benefits of a ketogenic diet for cancer patients.
Why you don't necessarily need supplements if you eat a well-balanced, organic diet.
Dr. Komotar highlights the importance of mentorship and lifting those around you.
Improving your neuroplasticity and brain function through multitasking.
What working smarter means: identifying your weakness and building a strong, multidisciplinary team to support you.
Insight into the future of functional neurosurgery from Dr. Komotar's perspective.
Some of the inherent limitations in neuroscience when it comes to the study of mental health.
Links that Dr. Komotar has observed between mental health issues and brain disease.
Parting words of wisdom from Dr. Komotar: living a healthy lifestyle starts with baby steps!
Links Mentioned in Today's Episode:
Dr. Ricardo Komotar on Instagram
Dr. Ricardo Komotar at University of Miami Health Systems