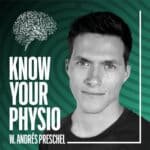 To celebrate the 50th episode of the Know Your Physio podcast, Andrés Preschel takes the hot seat! His amazing partner, Parker Sloan Leiro, AKA "The Rolling Sloan" takes over to ask all the pressing questions. We hear all about KYP's goal to make science sexy and accessible, and the immense value that Andrés has gained from hosting the podcast. In this episode, we find out which episodes impacted Andrés most profoundly and the amount of work that goes in, behind the scenes. Andrés touches on topics of fear setting, slow productivity, and what drives motivation, sharing astute advice for those seeking success in a saturated field. Tune in to find out where the goal to improve listeners' overall health literacy is leading Andrés in his personal and professional life, as he shares his infectious passion for scientific self-discovery.
Key Points From This Episode:
The benefits of BiOptimization's new Magnesium Breakthrough supplement.
What inspired Andrés to start the podcast!
The unexpected growth and success of the podcast.
Andrés recounts the KYP episode with early podcast guest, Romero Britto.
What he admires most about Romero Britto.
Which guests and episodes have affected Andrés' life most profoundly.
What he has learned through hosting the podcast.
Andrés breaks down the work and intentions of the KYP brand and company.
The work Andrés puts in behind the scenes.
What drives motivation.
What fear setting is and why Andrés pursues discomfort.
Parkinson's disease simply explained.
How Andrés has remained present through the exponential growth of his personal brand.
The importance of pacing yourself as you work towards long-term goals.
Andrés' advice for those seeking success in a saturated field.
The concept of slow productivity. 
Andrés' favorite episodes so far and what's in store for the future!
The immense value Andrés has gained from podcasting.
Why Andrés and Parker are moving!
Stay tuned for the KYP newsletter.
Links Mentioned in Today's Episode:
Parker Sloan Leiro on Instagram
Dr. Morgan Levine on Instagram
Cal Newport on Slow Productivity
The Huberman Lab Podcast: The Science of Setting & Achieving Goals
Know Your Physio Episode 016: Patrick Porter