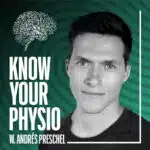 Welcome back to another episode of Know Your Physio. Joining us today is 23-year-old founder and CEO, Alexis Bogomolni. Alexis received his bachelor of science in business finance and management at the New York University, Leonard N. Stern School of Business. He started the ABH Developer Group and has already achieved incredible success at such a young age. In this episode, Alexis shares his professional background with us, why the content of this podcast is so helpful for him, the cycles of life, and how he handles burnout. We also discuss why Alexis is an optimist and how it has led to his success, why success starts within, and manifestation. You will hear what a typical day looks like for Alexis, his sleep and how he tries to improve it, and macrodosing and microdosing. To hear all of this, how to manage the cycles of life, and even get a discount code for a product to improve sleep, tune in now!
Key Points From This Episode:
Information about BioOptimizers' new magnesium product and why it can improve your health and a discount code for the product. 
Introducing today's guest, Alexis Bogomolni. 
A brief overview of Alexis' background and why this podcast's content is so helpful for him. 
Why Alexis believes life is just cycles and how knowing your body helps you navigate them.
How burnout happens and how to use meditation to avoid it. 
Why Alexis is a huge optimist and follows the signs the universe gives him. 
Alexis' role at work and what he does on the day-to-day.
The kinds of projects Alexis' company works on. 
Why success starts within. 
Why low-level decisions like the way you choose to eat affects your higher-level decisions.
Why every day is about manifestation for Alexis. 
Alexis walks us through his typical day. 
What Alexis' sleep looks like and how he tries to improve it. 
Why you can do anything you believe you can do. 
Alexis' experience with macrodosing. 
How microdosing has helped Alexis. 
Alexis shares words of wisdom with listeners.
Links Mentioned in Today's Episode:
Discount code for MagBreakthrough